Last season 33% of the BBC pundits thought Liverpool would win the title and 23 out of 24 thought they would finish in the top two. This season, 52% think they will be champions again while 21 out of 25 think they will finish in the top two.
Ruud Gullit: I saw Liverpool against Arsenal in the Community Shield and I understand it was pre-season but they could not play their normal game. Without it, without their anger and their speed, we saw they are not much better than the other top sides.
I didn't think Liverpool could do it twice – win the Champions League in 2019 and then the Premier League in 2020 – and keep playing the way they did for so long. It was quite remarkable they did it, because that pressing game is hard to do for so many games. The most difficult thing will be to do it again, so I am going with City to win the title – but I thought the same last year, and I was wrong.
Rob Green: After getting 97 and then 99 points in successive seasons, for Liverpool to do it all again for a third year with pretty much the same team is a huge ask.
Danny Murphy: There are always going to be some fans who want new faces just to get excited by, but this is a super-confident side playing consistently well over two years now. It doesn't need fixing, it's pretty perfect in most areas.
Mark Lawrenson: My only worry is that the three front players have been unbelievable in terms of the number of games they have played in the past three seasons, so what happens if they get injuries there?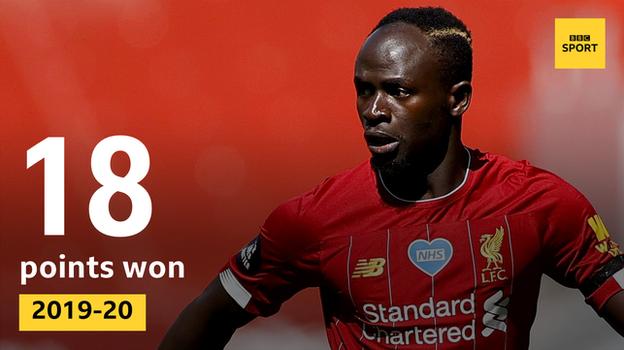 Joleon Lescott: I respect their back-up players but Liverpool lose that fear factor when players such as Sadio Mane and Mohamed Salah are not on the team sheet.
Alex Scott: I was certain they would win it last year but defending the title is much harder. They are still going to be very close, but they haven't really strengthened and they could be tired.
Alex Scott and Tim Cahill are the guests on Football Focus on BBC One and the BBC Sport website at 12:00 BST on Saturday.
Jermaine Jenas: I'm surprised so many people don't see Liverpool winning it again. I know their results fell away at the end of the season but you have to remember they had wrapped up the title so early, then had to get to the end of the season with no crowds. Even in normal circumstances, it would be a struggle to maintain their intensity.
So I don't think Klopp will allow their standards drop now. Why would you build something to then just give it away? I can't find a reason anyone will finish above them – I am expecting Liverpool to keep on building an era of dominance.https://emp.bbc.com/emp/SMPj/2.35.13/iframe.htmlLiverpool 5-3 Chelsea: Henderson on 'amazing feeling' of lifting Premier League trophy
Stephen Warnock: Winning the Champions League will be more important to City whereas with Liverpool it will be about the Premier League again. They will want to prove how good they are, plus they have not been able to celebrate it with their fans because of the coronavirus pandemic so they will be fired up to win it in front of them.
Karen Carney: There's the issue that they won't have the support of fans inside Anfield, which is a potential 10-point drop off. I still think defensively, they are the best, though, and that's where United, Chelsea and City struggle. But if Kalidou Koulibaly joins City, it's a whole different ball game.